20.06.2019
Adobe Premiere Pro CC Archives
Adobe Premiere Pro CC Archives
Premiere Pro CC: Archive Projects with Project Manager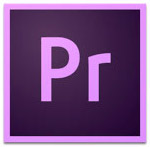 There are two big questions you need to answer when the time comes to archive your project:
What should I archive?
Where should I archive it?
As we've discussed before, the "where" is pretty confused right now. Options include LTO tape, hard disks, DVDs and The Cloud.
But, if you are using Premiere, the "what" is getting easier to answer, thanks to the Project Manager. Let's take a look at this powerful feature.
THE BASICS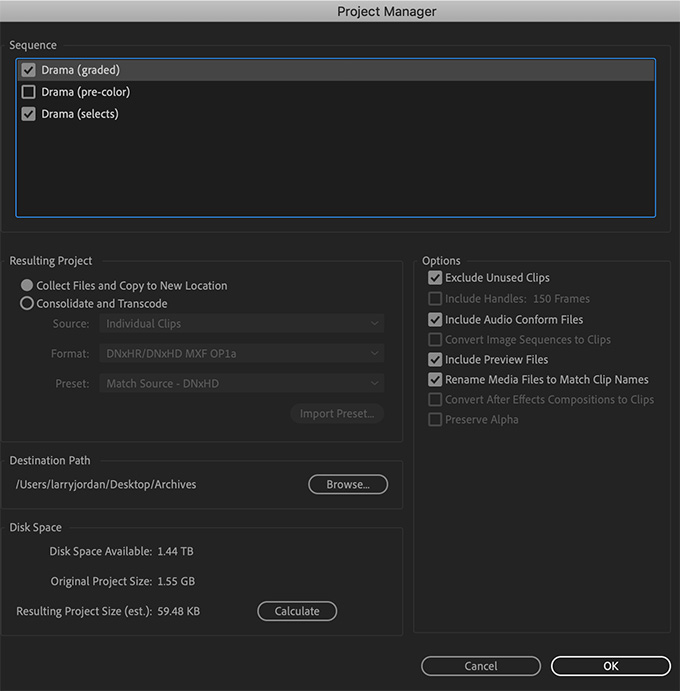 Choose File > Project Manager to display the window. Project Manager has two key functions:
To collect all the different files in your project and copy them to a new location. This is the best option when you want to archive a project. Collecting files copies the current project and all of its associated media files to a single storage location. There is no conversion of files when the files are copied.
To consolidate all the different files in your project and transcode them into an intermediate codec for editing. This is the best option when you are prepping files for editing.
In this article, we will look at the first option.
NOTE: Collecting files into a single location is also a good idea if you plan to share these files between editors.
ARCHIVING
At the top of the window is a list of all the sequences in your project. Check those that you want to consolidate and archive. While conserving storage space is important, remember this it the long-term archive of your project. Don't exclude media that you might find useful if your project becomes a wild success and you need to create a Tenth Anniversary version.
NOTE: Nested sequences are not automatically selected. If the sequences you are selecting contain nested sequences, ensure that you include these nested sequences in your selection.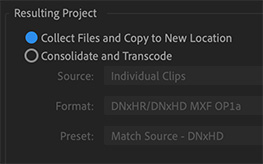 Next, check Collect Files and Copy to New Location.
This option, as you might guess, finds all the files in your project and copies them into a new location. There are several notes here:
Existing files are not moved or altered
This will require more storage space to hold
Ideally, create a new folder specifically for this project. This makes archiving or sharing easier.
NOTE: Project Manager does not collect and copy After Effects compositions that are dynamically linked to an Adobe Premiere Pro project. Project Manager does save the Dynamic Link clip in the trimmed project as an offline clip, however.
In the Options section:
Exclude Unused Clips. Specifies that Project Manager will not include, or copy, media you did not use in the original project.
Include Audio Conform Files. Ensures that the audio you conformed in the original project remains conformed in the new project. When not selected, the new project occupies less disk space, but Premiere Pro conforms the audio again when you open the project. This option is available only if you select Collect Files And Copy To New Location.
Include Preview Files. Specifies that effects you rendered in the original project remain rendered in the new project. When not selected, the new project occupies less disk space, but the effects are not rendered. My recommendation is to NOT check this. If, in the future, you need the Preview files, Premiere will recreate them. This saves space initially and, when you need them again, uses the latest technology to recreate them.
Rename Media Files to Match Clip Names. Renames the copied footage files with the same names as your captured clips. Select this option if you rename your captured clips from within the Project window and want the copied footage files to have the same name. (Captured files that you import, especially those captured using scene detection, may not have intuitive names, so you may want to rename them from within the Project window.) This option ensures that the filename of the actual captured footage is updated to reflect the new name in the Project window, greatly simplifying the organization of your footage files. Selecting this option for an MXF file will not change the User Clip Name in the file's XML; however, it will change the filename of the clip copied for the trimmed project to match the clip name shown in the project panel.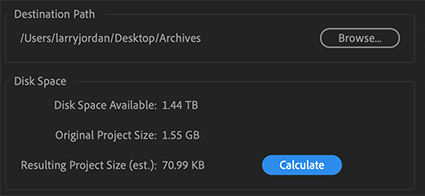 Next, set a Destination Path to a folder specific to that project. Yes, you can store projects anywhere, but, especially when archiving, putting everything related to one project in one folder is a great way to keep things organized.
Click Calculate, at the bottom, to make sure you have enough room to store the project. Then, click OK.
SUMMARY
Some projects never need to be archived. Others, though, have a life far beyond their original release. By taking the time to collect all the different project files and put them into one place you can assure yourself they will be around when you need them again in the future.
---
Bookmark the permalink.
Final Cut Pro X 10.4

Edit smarter with Larry's brand-new webinars, all available in our store.
Access over 1,900 on-demand video editing courses. Become a member of our Video Training Library today!
JOIN NOW
Subscribe to Larry's FREE weekly newsletter and save 10%
on your first purchase.
Источник: [https://torrent-igruha.org/3551-portal.html]
,
Adobe Premiere Pro CC Archives
Adobe Premiere Pro CC 2017 review
Adobe Premiere Pro CC review from 2013
Note: this is the archived copy of our review from 2013, provided for you to peruse if you're curious about how things have changed since then.
Adobe has entered a new chapter; one where you don't own your software anymore, but rent it from them and pay a monthly subscription to keep using it.
The whole concept of software is changing and it might be having some radical benefits, like what happened with Adobe Premiere Pro CC version 7.0.1. Although a minor increase in version number, many improvements have been made to the software that will make your editing easier and faster, and isn't that the whole point of a video editing application?
Premiere Pro is already an extremely competent app which allows you to work with practically any clip you'd care to throw at it, so what little nuggets have Adobe offered its legion of editors with this new update?
Many of those new features are quite small, but their value lies in what they help you achieve, and they're all much welcomed and needed improvements.
Let's take a look at three of them, like Premiere Pro's titles.
You can spend time creating one that looks exactly right, but duplicating it as an independent title so you can use the exact same style elsewhere along your timeline is now child's play: hold down the Option or Alt key (depending on your computing platform) to create a new, unique instance of the first title, which you can then alter without those changes being copied back to the original. This may not sound like much, but if you work with titles a lot, you may well appreciate this greatly.
Another small change is what Adobe have done with subclips. These are not independent clips, but linked to a longer one, and are used most often to isolate parts you might be interested in without having to scroll through the whole original to find them again. When creating a subclip, you now have the option of being able to alter its in- and out-points later on.
Before this update, those points were set and the subclip behaved as if there was no other footage beyond those boundaries, even though there obviously was.
Once that new option is enabled when you create a subclip, you can extend those boundaries to give you a little breathing room for transitions and such like, should your edit require it. This is a great feature as it saves you having to go back to the original clip to grab the footage from there again if the original subclip's limits got a little too tight for your needs.
When it comes to creating L-cuts (when a clip's audio and video are cut independently at different times - something which is done to add dynamism to your edit), you'll love the new 'Linked Selection' button in the Timeline.
When you toggle it, you can edit either part of your clip, be it the video or audio section, without affecting the other. It makes L-cutting an absolute breeze. Your clips' audio and video are still connected, and toggling that button again re-establishes that link automatically.
There's the potential that you might inadvertently move the audio and video out of sync with this feature which is why a new display indicating if a clip has gone out of sync in the Timeline is also very welcome indeed, although this feature isn't toggled on by default.
It's hard to do justice to such a huge program in such a short review, but all the features that have been added to Premiere Pro CC 7.0.1 will be beneficial to your workflow in some way, especially if you're migrating from other apps like Final Cut Pro, as Premiere now behaves more like that you're used to.
Veteran users should also appreciate the timesaving these features afford you.
All in all, this is a very worthy upgrade and if a lowly x.x.1 update brought all this to the platform, we very much look forward to the next 'incremental' change from Adobe.
We liked
It's obvious that Adobe are determined to make Premiere Pro the best editing choice for filmmakers, and their constant refinement of the program while keeping it as stable as it is, is extremely good news for the community.
Some changes are playing catch up with the competition while others move it forward. There's nothing groundbreaking here, just little touches which should make our editing jobs a little easier and hopefully allow us to finish a project before the early hours of the morning for once!
It's the number of changes, over the whole interface and editing process, which makes this update so appealing. It makes us feel like Adobe are listening to their customers - and this can only be a good thing.
We disliked
Being able to own the software would be great, as opposed to merely renting it.
The price may be attractive but Adobe locks you in to yearly commitments and the moment you decide not to pay for it, your app will no longer work. How attractive this is to people, only time will tell, but not only could it cause some who are uncomfortable with the idea to shop elsewhere, it destroys any chance of reselling your copy should you no longer wish to edit with Premiere in the future.
You do get the benefit of getting the latest updates as soon as they're released, which will be a change for some editors who buy an app and keep it for as long as possible before feeling the need to upgrade to the latest and greatest.
But apart from that, there's really not much to complain about. This is a solid update which brings many advantages. It works on multiple platforms, and it holds its own on older machines, unlike certain wiz bang programs from the competition.
Final verdict
If you're an experienced Premiere editor, you'll love the new changes; those that are migrating from elsewhere will appreciate that Premiere is behaving more and more like what they're used to, making the transition much easier. What's not to like?
Current page: Archive: Adobe Premiere Pro CC 2013
Prev PageAdobe Premiere Pro CC 2017
Источник: [https://torrent-igruha.org/3551-portal.html]
Adobe Premiere Pro CC Archives
Com, mail. yahoo. com, smtp. gmx.
.
What's New in the Adobe Premiere Pro CC Archives?
Screen Shot
System Requirements for Adobe Premiere Pro CC Archives
First, download the Adobe Premiere Pro CC Archives

You can download its setup from given links: